There are a few criteria for a meeting to sync with Less Meeting from your calendar.
Note: This assumes you've already setup calendar sync. Set that up here if you haven't done that yet.
The meeting must have at least one other attendee other than yourself and be more than 0 minutes long OR must have a plan (aka an Agenda and/or Tags).
You can add the Agenda directly into the Outlook plugin, or use this format for Google Calendar, iPad/iPhone, and Email CC.
You've given the meeting enough time to sync
- 10 minutes for Outlook, iPad/iPhone, and Email CC
- 30 minutes for Google Calendar (check the latest sync time here)
For iPad/iPhone users, the email address on your device calendar needs to match your Less Meeting account email (or be a secondary email in Less Meeting).
Sometimes a meeting can get inadvertently marked as "deleted" during the sync process. To check this, go to your Meetings page and click the "deleted/declined" indicator.
Make sure to select the option to Notify All Attendees/Send Responses/Send Updates/etc. Ex: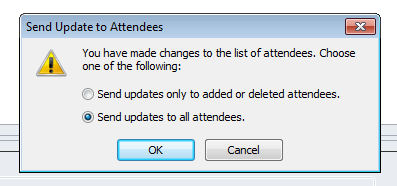 We use this criteria to keep things such as personal items (e.g. "Doctors Appointment at 2pm") out of Less Meeting.
We're also constantly playing catchup with how the different calendar programs send over meeting changes, so if you meet all the criteria above but still aren't seeing your meeting, drop us a line and we'll take a look.