With Less Meeting you can choose to have a daily digest email sent to you every morning to help you plan out your day. The Daily Digest is sent daily at 7:00am based on your local time zone.
This email includes the following:
Any actions that someone completed for you yesterday
Schedule of your meetings today
Summary of action items you still have open
And if you'd rather cut back on the emails you can easily turn off your daily digest from the settings page.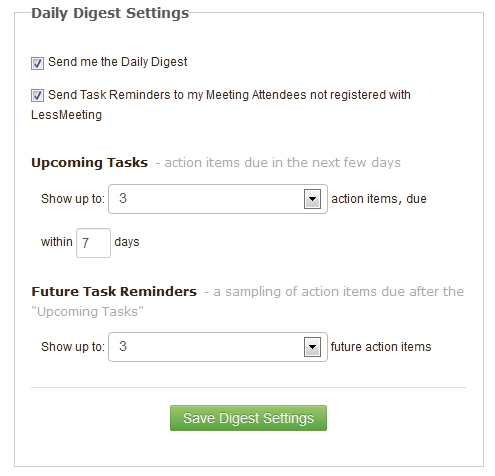 Notice that you can choose whether or not your meeting attendees receive the daily digest as well. As a result, someone who hasn't signed up for Less Meeting still might receive a daily digest email if they're in a meeting and get assigned an action item from someone who is a Less Meeting user.
Not to worry - these users can turn of their daily digest too by simply clicking the link at the bottom of their daily digest email.