Have you installed the Less Meeting Outlook plugin, but not sure where to update the settings?
Here's how, as well as a quick overview of what each setting option does.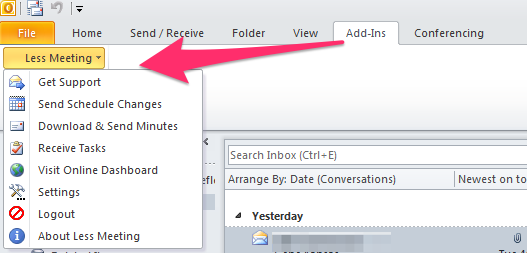 1. Get Support - Select the Get Support option to send us your error logs.
2. Send Schedule Changes - Your meetings sync from Outlook to Less Meeting every 10 minutes, but if you want to speed up the process select this option and your meetings will update in the next 60 seconds.
3. Download & Send Minutes - This option lets you send your meeting minutes from Outlook, giving you more control over the minutes email. Here's how you set that up in Less Meeting web.
4. Receive Tasks - Similar to Send Schedule Changes above, this will speed up the task sync process.
5. Visit Online Dashboard - A simple link to your Less Meeting Web dashboard.
6. Settings - Configure the Less Meeting Outlook plugin, such as whether you want to sync your tasks to Outlook and whether you want to show the meeting notification popup. Here's more info about meeting notifications.
7. Logout - Sign out of the Less Meeting Outlook plugin. Note that after you do this your meeting and task data will no longer sync to Less Meeting Web.
8. About Less Meeting - Check version information about Less Meeting